Access to clean water is necessary for a life of dignity and other basic human rights.  It is essential for basic functions of life, including drinking, eating, and hygiene. The coming of the COVID 19 pandemic has emphasized the fact that good hygiene and clean water are the first line of defense against COVID 19, Cholera, Ebola and other highly contagious diseases. However, access to water remains a major challenge in most schools which prevents the adoption behavior changes required for the prevention of water related diseases. Nineteen percent of schools in Malawi do not have an improved water source, resulting in students drinking from unimproved sources during the school day.
It is against this background that the Rainwater Harvesting Association of Malawi has for the past two years been working with schools around the City of Lilongwe on a water conservation and education programme. The aim of the initiative is to promote water harvesting and management in the targeted schools for sanitation, hygiene and other productive uses. Through the programme, children are taught the value of water and how they can reduce wastage of scarce water resources. Different methods for water harvesting and management have been demonstrated in the schools including construction of Calabash cisterns for rainwater storage as well as simple water diversion methods for groundwater recharge and crop production.
At one of the targeted schools, Tsokankanansi Primary School located in Areas 43 in the City, a 7500Liter Calabash Cistern was constructed in collaboration with Schools and Colleges Permaculture Education (SCOPE-Malawi). Besides the storage tank, 5 handwashing stands (Baby Calabashes) have also been installed to promote sanitation among the learners. The school has established a 0.2Acre Orchard that has been planted with various fruit trees that are irrigated using excess water from the Calabash Cistern. Run off from around the school yard is diverted to the Orchard instead of being allowed to flow out of the school premises. The school has a vegetable garden where various high nutrient horticultural crops are grown.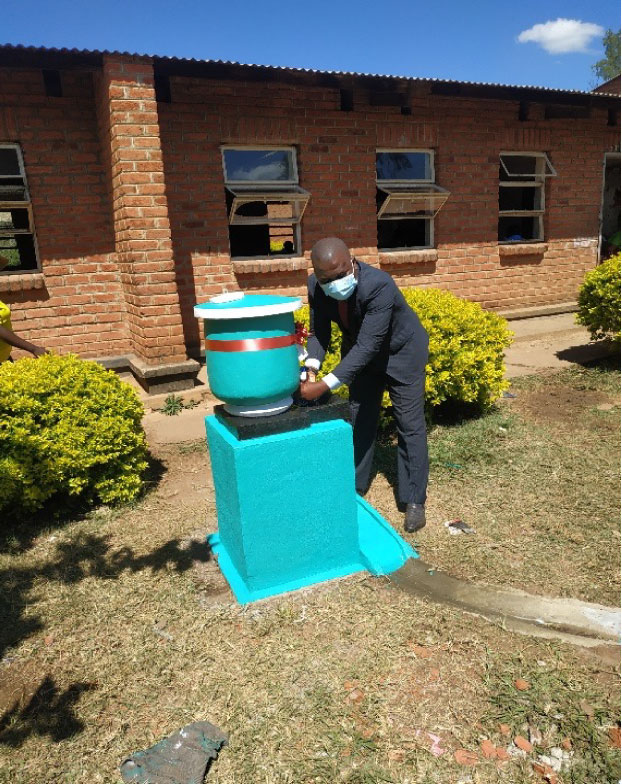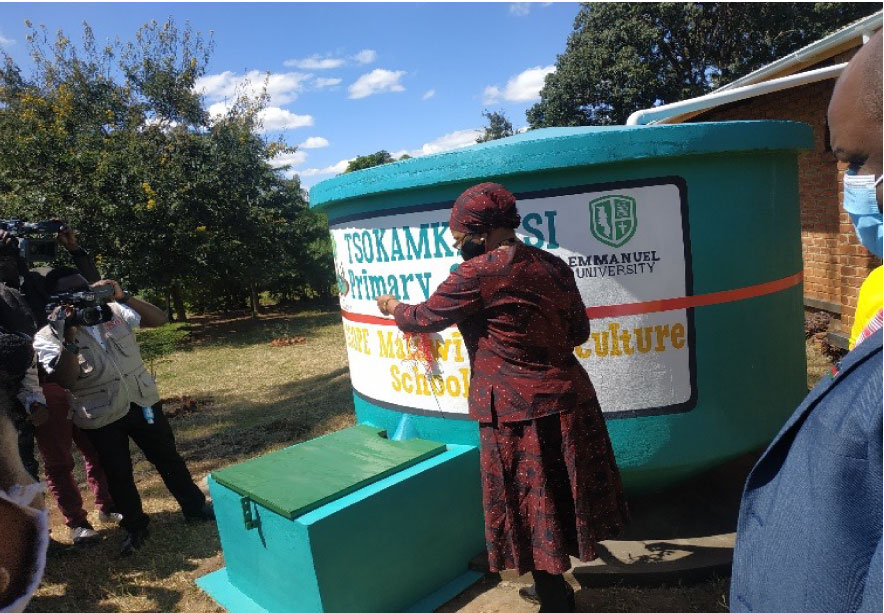 Through the initiative a number of benefits have been realized by the school including improved nutrition in support sustainable and equitable food systems by growing Fruits, Vegetables and other crops around the schools, learners now have access to different food types that will lead to improved health.  There is also improved school health and sanitation – as water from the Calabash Cistern water enables sanitation and hygiene practices to prevail. Through the sale of excess fruits and vegetables, the school is able to to generate income that can enable it to meet some of basic needs. One of the most important environmental benefits is that rainwater harvesting and management in the schools has contributed to an improved learning environment by turning "dusty grey schools into green schools".